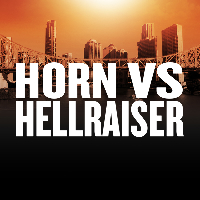 Battle of Brisbane 2: Horn Vs Corcoran
You can test the availability and your favourite device by simply playing the teaser video below. If it plays you are set to watch it on your favourite device!
In which countries is this PPV available?
Australia and its territories
If you try to access it through a VPN, your stream will be blocked, there will be no refunds applicable to those that do.
Which devices are supported?
This PPV event is supported on any browser and has been tested for Chrome, Firefox and Safari browsers on PC and Mobile devices.
It will
NOT
be available on:
Apple Airplay
Telstra TV
Widescreen option for some of the mobile devices are disabled
For any information or questions please view our FAQ's and support page
FAQ & Support